Providing the public with the most accurate and up to date information and qualified personal injury attorney listings in their state to represent them.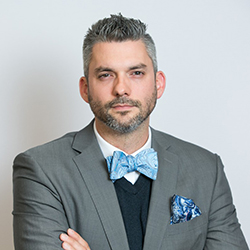 Christian F. Schoepp Ph.D., JD, MPA
100 S. Biscayne Blvd., #Suite 800
Miami, Florida
33131
305-373-1040
www.obrontcorey.com
Charter Member
Christian F. Schoepp, PhD., JD., MPA focuses his practice on insurance coverage, wrongful death and catastrophic personal injury. He also uses his extensive experience in international relations and diplomacy to the benefit of the firm's business clients.

Christian was born and raised in Montreal, Canada and speaks English, French, and Spanish fluently. He holds a Bachelor of Arts in Political Science, a Master of Public Administration, a Doctor of Philosophy in Conflict Analysis and Resolution and a Juris Doctor with a specialty in alternative dispute resolution. He also holds graduate certificates in Negotiations, Human Resource Policy and Management and Health Law. While in law school, he was selected to be the Associate Editor of the Intellectual Property Law Review, received the CALI Award in Drug & Device Law, was selected as a Phi Alpha Delta Society Scholar and was given the Public Service Award by the Minnesota J. Foundation.
Prior to joining the firm, Christian served as a political affairs officer for the United Nations General Assembly in New York. He spent nearly a decade working with the Consulate General of Canada, where he was frequently recognized for outstanding achievement. As a senior consular officer, he was often called upon to operate intelligence activities and handle high profile cases with foreign governments and international affiliates. He participated in both national and international crisis operations as part of emergency management response teams and built relationships with senior stakeholders and law enforcement agencies in the United States, Canada and around the world.
Christian also acted as a consultant to Miami-Dade County where he served as a special project administrator, providing technical assistance and advice with respect to the regulatory aspects of various federal funding programs. Christian was appointed by the Miami-Dade Board of County Commissioners to serve on Miami-Dade County's Special Transportation Advisory Committee. He has also served as the Director of Research and Strategic Planning at the Beacon Council, Miami-Dade County's official economic development agency, where he coordinated projects resulting in over $75 million of new capital investment for the County.
Christian is a published author and has extensively written on the topic of conflict resolution. He has taught at both the undergraduate and doctoral levels for more than 15 years.